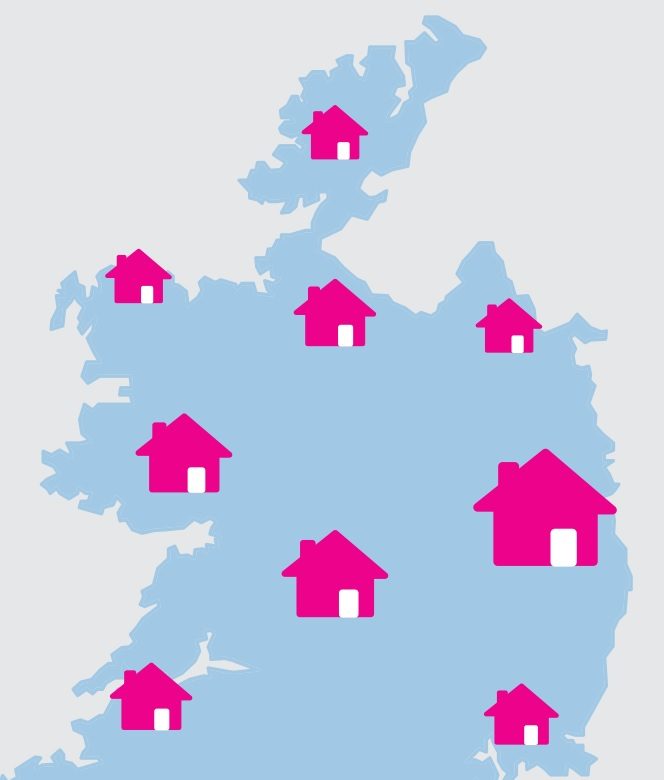 Ireland in 2015 saw both signs of improvements, but also the repeat of previous bad habits. Supply continues to be the major talking point as supply is well below the desired numbers required, since 2013 a target of 25,000 new residential developments per year has been set. New development output has been well short each year with only 8,300 completions in 2014 and 11,000 in 2015. The number of complaints lodged against real estate agencies increased from 198 in 2014 to 283 in 2015 (with only two cases having imposed fines of €16,000). At less than 24,000, the total number of properties for sale is at its lowest point since February 2007. 48,105 sale transactions were completed, worth a total value of €10.62 Billion, making the average sale price across Ireland as €220,960. Secondary Homes dominated the market with 42,221 transactions compared to only 6, 171 new homes and apartments. Real estate agents would have made a combined total of €159 million in commission (at an average of 1.5% per transaction). Dublin and Cork combined to make €6.3 Billion of the overall €10.62 Billion generated (20,637 of the 48,105 transactions) with West Meath, Monaghan, Carlow and Offaly the least profitable areas.
Since 2006, completions have gone from a peak of 93,419 down to 11,000 in 2015 (but up from 7,700 in 2014). The number of available properties has reduced in each province from 2014 to 2015, Leinster 7,600 to 6,500, Munster 12,500 to 10,000 and Connaught/Ulster 10,000 to 8,000. Presently, there are over 184,000 ghost estates currently outside of the market, either that haven't been built yet or waiting for planning permission (only 35,000 in urban areas). 1,400 new homes will need to built per month to meet the required demand level. House completions in Ireland have always represented over 75% of total new residential development since 2006, with a peak of 90% in 2013 (7,379) and a low of 75% in 2007 (58,936).
Since 2010 9,000 units have been brought in bulk by inventors rather than families, adding to the strain of the housing shortage Ireland continues to experience. These 9,000 units over just 300 deals. The Government, since 2010, has also launched two initiatives to deal with the housing shortage construction 2020 and the social housing strategy 2014-2016. 7,500 units were brought in Dublin, Cork and Galway worth €1.9 billion, other areas of large investment were Cavan, Limerick, Kildare, Wicklow and Louth. In 2014, 2,400 units were sold for €666 Million, but mostly unfinished. Dublin equated to €1.6 Billion of total investment, as areas such as Mayo, Leitrim and Longford have no transactions of more than 10 units, 2015 posted numbers of €140 million of investment across 777 units.
Ireland appears to be in contrast to the rest of Europe, in terms of having more people in dwelling in detached or semidetached houses compared to apartment/flats. The EU 28 saw an average of 25.6% living in semi-detached, 33.7% detached, and 41% flats. The highest year of construction for housing was 2006 with 73,073; 2014 levels were down to 8,766. On the other hand, Apartments have never achieved over 25% of total construction output from 2004 to 2014. With completions reducing year on year from 2006 to 2013 (19,946 to 922), with 2014 (2,250) and 2015 (1,800). Quarter 4 2015 saw total completions at 1,800 down from 2,700 in Quarter 4 2014 (Planning permission is down 12% on the year 2014 to 2015 down almost 300 units).
NAMA in 2016 reportedly has 2,806 hectares of land in receivership, across 22 counties, 60% of the land in receivership is located in Dublin, Kildare, Meath and Wicklow. The Land provides enough space for an additional 80,000 new homes.
Unfortunately, there is a substantial barrier to building on the land though, this being inferior infrastructure in sewage, transport and roads and schools. Despite planning permission being up 70% on last year (13,000 in 2015), the housing shortage is no nearer to being resolved. Presently, there are 6,658 accepting planning permissions for Estate building units (up 89%), 3,592 one-off developments (up 16%) and 2,794 apartments (up 256%). The residential density guidelines from the department of the environment suggest a minimum of 30 to 50 new homes/apartments per Hectare in an urban area. Under these guidelines, major cities could build anywhere from 84,000 to 140,000 new homes to ease the housing storage. Leitrim, Clare, Monaghan, Roscommon, Sligo and Donegal combined represented less than six hectares. Longford, Cavan, Kerry and Tipperary had no land in receivership. But in contrast to the reduced completions, transactions were up quarter on quarter in 2015 with over 12,000 in Quarter 4 2015 alone. Registrations are down from 1,157 to 859 from Quarter 3 to Quarter 4, down 42% on the quarter and up 4% for the year. Dublin accounted for 3,500 transactions in Quarter 4 2015, followed by the Mideast 270 and Southwest 200, the Midlands were below 100, Midwest around 100 and West just over 100.  The Number of completions in 2015 Quarter 1 to Quarter 3 saw Fingal (840), Cork (790) and Dublin (480) as the areas with the most activity, Carlow (140), Cavan (180) and Westmeath (140) amongst the lowest recorded levels. The only cities that didn't see housing completions increase quarter on quarter were Donegal, Fingal, and Dublin. Construction output since 2011 has improved from €9.48 billion to €12.55 billion. Leinster, Connaught and Ulster all saw their output activity up from 27% to 40%, with only Munster declining by 5% (down €1.88 billion). Urban living in Ireland now accounts for over 50% of dwellers, increased year on year since the 1980s, but still below the EU28 average of 75%. Leinster has accounted for over two-thirds of the population growth in Ireland since the 1960s.
Dublin has 165 of the total 337 (48.96%) residential construction projects in the planning or building stage from December 2015 to February 2016, with most of the new projects costing up to €10 million (the most expensive residential development being worth €2.5 billion. Dublin's overall construction output of €4.3 billion, more than all the other provinces combined with Munster €500.21 Million, Connaught €87.10 Million and Ulster €23.358 Million (Leinster spent €665.62 million, not including Dublin). Cork had the second-highest activity with 46 planned new residential developments and Meath (26). The least active cities in Leinster were Longford (0), County Offaly (1) and West Meath (2); Munster, very similar to Leinster, has a majority of their new residential developments in their most populated city (Cork 46 projects) accounting for 63% of total province construction activity, followed by Limerick with 10 and Clare (7). Kerry (4), Waterford and Tipperary (both 3) had the lowest construction outputs. Connaught's most active city was Galway with 14 projects (51% of total province construction activity), matching the construction output of the other cities combined. Both Leitrim and Sligo have 0 new residential developments in the planning or building stage.
Ireland is the only EU 28 country with almost double-digit projected construction output growth from 2014 to 2018 (9% to 10.10%), with only Poland close to their performance +4.90% to +7.50%. Germany, France and the UK show smaller growth year on year (-2.80% to +5.29%). The advantage of building in Ireland is cheaper costs per sq.m ranging from €1,250-1,750 sq.m compared to the rest of EU 28 €1,150-3,000 per sq.m. Ireland's most expensive build is high rise apartments (€1,750 per sq.m) and the cheapest townhouses (€1,250 per sq.m) similar to Germany and the Netherlands. Ireland like the UK since 2014, has some of the smallest houses in Europe, with only the UK (76 SQ M) and Finland (87.1 SQ M) below them. In comparison, Denmark (137 sq.m), Greece (126.4 sq.m) and Netherlands (115.5 sq.m) lead the way. Ireland is amongst the most rooms per house (5.2) with Belgium as the highest at 5.8, Due to the number of rooms, Ireland boasts the second smallest rooms (16.8 sq.m) with only the UK smaller (15.8 sq.m) Both Denmark (39.1 sq.m with 3.5 rooms) and Greece (39.5 sq.m and 3.2 rooms) are the largest. Ireland boasts the youngest population in Europe with 53% aged from 25-64, and only 12% 65+ years of age. Also, lesser Irish citizens are now leaving the country with the peak year being 2013 (52,000) and current numbers around 34,000 now, on top of this around 40,000 to 70,000 previously immigrated Irish are due to return by 2020. Ireland continues to attract lots of EU (9,000 in 2015) and rest or world citizens (25,000 in 2015) commanding an average wage of €23,000-45,000.
The Irish rank 9th in the EU 28 for average monthly rent (€2,129), well above the EU 28 average of €1,469. The average yearly wage currently stands at €35,600 across 1.9 million working people, but in reality, over 50% make less than €28,500 and only 35,000 people in the top 1% of €200,000+. Dublin employs over 40% of the total countries workforce and makes up most of the top 25% earning around €40,000-70,000. Dublin (in the 11th) and Cork (30th) both appearing in the top 50 most expensive cities in Europe. The average income per area surprising doesn't see Dublin in the first place, but fourth instead (€230,000 per person), with the South-East (€259,000), Mid-West and Midlands (around €239,000) completing the top three. The least prosperous areas are the West (€186,000), the Border (€190,000) and the Mid-East (€210,000). Dublin accounts for 28.3% of the total income earnt, with the South West and South East at 15% and 13% (the Midlands only contributes 6%). Irish people spend the second-highest amount of their wages on their rent with 34% and also have the second-highest rent average of €679 (The EU 28 average is between 25-28%).
Mortgage draw-downs are up 6.4% for the quarter and 4% for the year, whilst first-time buyers were up 4% and down 5.4% on the year with an average of 171,500 Euros (up 2.6%). Total draw-downs were up from €1,005,000 Million to €1,284,000 Million. In 2006 mortgages peaked at 114,600 and a total value of €32 billion. The Central Bank is looking to lend closer to the €8 billion mark by the end of 2016, and presently only near the 4 billion mark (4.7 billion and 26,756 transactions) 29% increase on 2014 and a projected 11% growth in 2016. Ireland is now performing well above its low of 2011 with only 12,900 applications similar to 1970's numbers. Ireland from Quarter 1 2014 to Quarter 1 2015 was the worst-performing EU 28 country with -13% available credit, only beaten by the Ukraine -32%, the best EU 28 performers being Sweden (+4%), Estonia (+3%), Norway (+3%) and Malta (+2%). Cash buyers have a strong representation of all transactions with 46% in 2015, with 8,103 out of 12,065 completed in quarter 4 2015. Housing loan approvals are down from 6,799 in Quarter 2 to 6,131 in Quarter 4 20% reduction on the year, re-mortgages are up 19% on the quarter and 53% on the year (797 to 993).
House prices in Dublin have rose by 2.7% in 2015 compared to 2014, with the rest of the country around 13.1%. The average house sale in Dublin is down 0.4% and outside of Dublin up 7.6%. The rental market continues to dominate as the new mortgage laws have seen fewer people in a position to afford the deposits. Rents in Dublin are up from €1,368 per month Quarter 2 to €1,435 in Quarter 4 up 8% for the year, with the rest of Ireland up from €694 per month to €727  per month up 10% for the year. With the new landlord regulations restricting an increase less every 2 years enforceable from January 2016, rents will continue to increase over the next 6 to 12 months. Landlords will be fined if they use the intent to sell letter to find tenants that will bring in higher rent without the original intent to sell. The most expensive houses remain in Dublin (380,507), followed by Wicklow (309,263) and Kildare (254,976) with Longford (85,821), Roscommon (89,886) and Leitrim (95,801) amongst the cheapest. The Residential Tenancies Board (RTB) has seen complaints about unfair rent hikes increase by almost 70pc in the space of one year as tenants struggle to meet the demands of international rental agencies and private landlords. In 2014, the RTB dealt with 185 disputes over rent being higher than the market rate. This jumped to 313 cases last year and already 66 disputes have been lodged in the first three months of this year. Most disputes centre on rent deposits and rent arrears – last year they accounted for more than 1,200 cases. There was 320 "unlawful termination of tenancy" or illegal eviction cases last year, which is a 40pc increase in the number of disputes registered in 2014.
The Irish Banking Federation reported first time buyers borrowed 1.685 million Euros over 10,000 transactions Quarter 1 to Quarter 3 2015, compared to €1.877 million over 11,476 transactions over the whole of 2014. First-time buyers were purchasing houses valued around €220,000 first 2 Quarters, by the end of Quarter 3, this increased to €250,000 to €280,000. First-time buyers have increased to an average age of 33, compared to 29 in 2005. Daft.ie reported Dublin 10 and Dublin 8 (5.8% to 24.5%), with Dublin 6 the biggest loser (-4.38% to -5.7%). Outside of Dublin, Cavan, Clare and Cork (15.7% to 26.1%).
Repossessions in 2015 were over 1000 by Quarter 3 2015, around 60 per week up 200% in 2014 with only 313 over the whole of 2014. Cork had the most repossessions with 123, Dublin 116, Wexford 68, Sligo only had 7. Banks have over 7,000 outstanding mortgage repossessions going through the courts according to the Irish Mortgage Holders Association with  Dublin the most outstanding with 1,673, Cork 627, Meath 607, whilst Longford 100, Carlow 116, and Leitrim 75 the least active courts. Ireland currently has over 38,000 homes with rents overdue by 720 days or above, 18,000 from 361 to 720 days and 12,000 from 181 to 360 days. Mortgage Holders have lost nearly €17.6 billion of wealth since 2007, with 43% of mortgage holders from 2011 – 2013 expressing negative equity (50% from the period of 2011 – 2013) an average loss per mortgage is around €66,300, with rural areas hit the worst. Ireland in 2015 had the highest ratio of mortgage debt across the Eurozone of 73% compared to an average of 37% (Holland was second with 52%) The Insolvency Service of Ireland has written off €72 million worth of mortgage debt over 641 personal cases, with €4 billion of arrears outstanding across family homes and investments.
Source – Matthew Scott – 4pm.ie